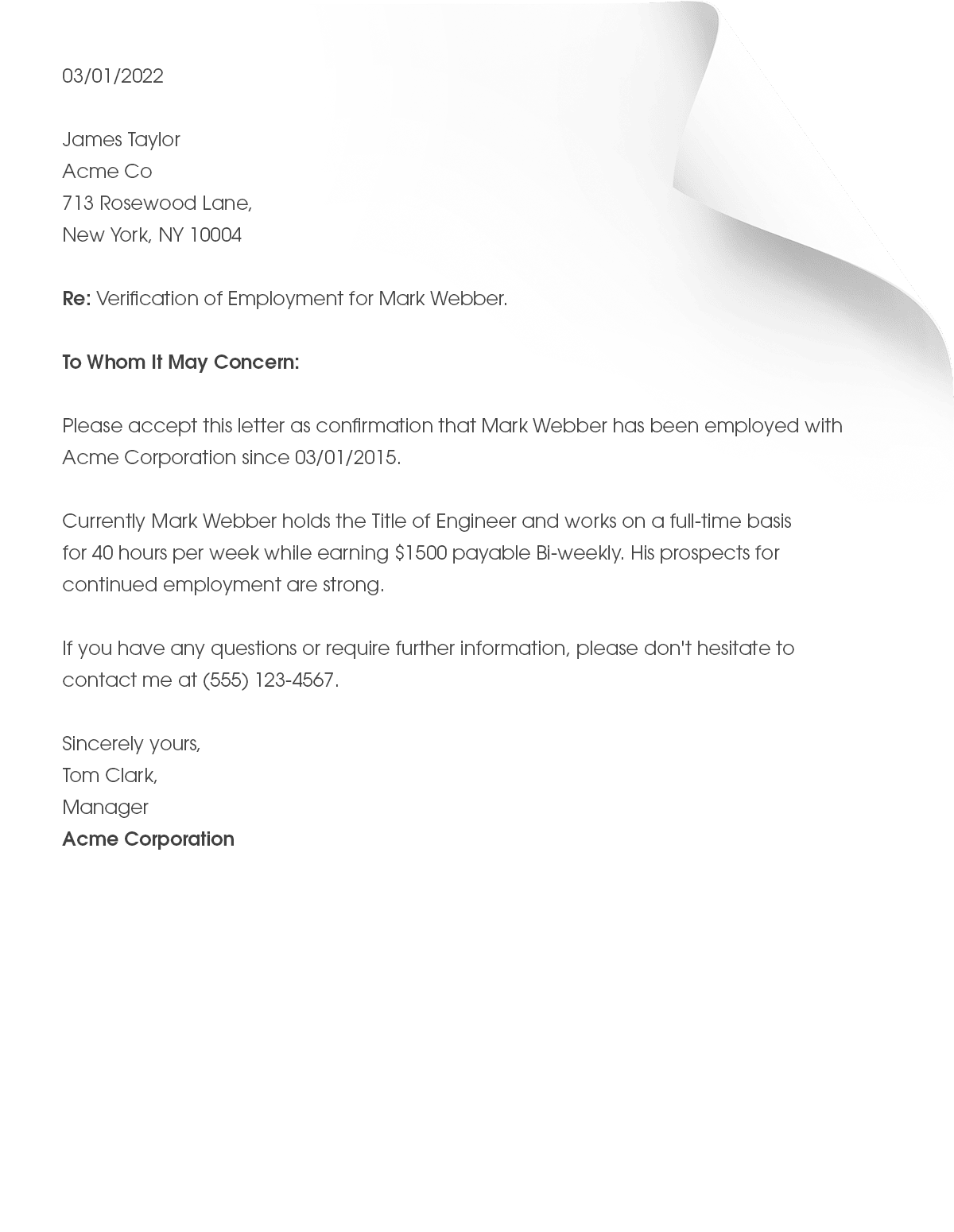 What Is an Employment Verification Letter?
An employment letter is a document written by a current or past employer that confirms the employment status of a former or current employee at an organization.
It can be requested by the employee, prospective employers, or various other governmental agencies and financial institutions.
An employment verification letter also verifies the employee's dates of employment, job title, previous salaries, and their eligibility to be rehired.
The person or institution requesting the proof of employment letter may also ask for reasons why the employee's previous contracts were terminated.
Why Are Employment Verification Letters Necessary?
There are several reasons why a current or former employee could request an employment letter. Here are the most common reasons:
The person is applying for a mortgage or car loan and the lender wants to confirm that they have a steady income to cover monthly payments.
The person is applying to rent a home and the real estate company wants to make sure that they can afford the deposit, monthly rent, and other costs.
The person may be requesting a loan payment reduction and the bank needs to see proof of income before they can approve the request.
If the person is applying for a new or different job, the prospective employer may need proof of employment along with verified personal information.
Employees don't always need to explain why they're requesting a verification letter. However, they must be honest about the personal information they submit to the other party.
Presenting inaccurate information in your employment confirmation letter can lead to a number of problems. This can include:
Losing your professional reputation and credibility
Facing up to 6 months in jail for being dishonest about military experience, for example
Companies could sue you if your inexperience ends up causing damages
You could also lose legal protection if you choose to sue an employer for discrimination
Salary History Bans and Employment Verification
Some states have started banning salary history checks.
This means that people who submit employment verification requests aren't allowed to ask you to include your previous salary information, bonuses, or raises.
Although it's illegal to pay men and women different salaries for the same job, the gender pay gap still exists in many companies.
By not showing potential employers what you've earned in the past, they might make you a fairer job offer based on your skillset rather than gender.
This means that a prospective employer is also unable to rely on your previous salary details to determine your compensation.
There are currently 37 states in the U.S. that ban salary history checks.
What Should Be Included in an Employment Verification Letter?
The information you need to include in a verification letter depends on the person or financial institution, as well as the specific state requirements.
When writing an employment verification letter, you should include the following basic information:
Employer address
Company name and address
Employee name(s) and surname
Employment dates
Former or current job title and description
Employment history
A former employee should include eligibility for rehiring
Employee current salary, raises, and bonuses (if applicable)
Reason for termination (if applicable)
Current staff members must make sure that they format the verification letter to confirm that they currently work for the company.
It's also important to check with the requester if they prefer a digital or physical copy of the employment verification letter.
What Are the Most Common Mistakes to Avoid?
When writing an employment verification letter, it's important to make sure that it looks professional.
Two of the most common mistakes people make are including irrelevant information and presenting it in the wrong format.
Below, we have included some tips to ensure that you avoid the same mistakes.
Follow an Employment Verification Letter Template
An employment verification letter template is often the same as a standard business letter. This ensures that you follow a set format and the correct guidelines.
Make sure that you include the date and the contact information of the recipient, if applicable.
It's also important to add a professional greeting at the beginning of the letter and sign off with a handwritten signature.
Include All of the Requested Information
Generally, an employment verification template includes the employee's name, which department they worked in or their specific job title, as well as the length of their employment.
Be sure to check with the requester whether they require any additional information.
This may include information about employment dates, how many hours the staff member worked per week or month, and what their payment cycle was.
Keep the Letter to the Point
When you write an employment verification letter, don't add information that's not relevant to the request.
A proof of employment letter is typically only about 50 to 100 words long.
Include Your Contact Details
Offer to answer any further questions at the end of the letter and remember to include a preferred method of communication in your contact details.
Edit and Proofread the Letter
The professionalism of the letter should be your top priority. This is because the individual's future employment, house, or insurance may depend on how it's perceived.
Make sure that you put enough time aside to read through the letter and correct any mistakes.
How Do I Verify an Employment Verification Letter?
An employment verification form is one of the last steps that most financial institutions and businesses take to protect themselves against false claims.
This is why proof of income documents will also be requested along with an employment verification letter.
Here is a list of documents that can be accepted as proof of income:
Pay stubs
Tax returns (1040)
Wage and tax statements (W-2)
Social security proof of income
A workers' compensation letter
Bank statements
A public officer will also be able to verify your income with a certified stamp to confirm that the information is authentic.
Self-employed individuals are also required to submit proof of income. In addition an employment verification letter, the following will be accepted:
IRS Form 1099-MISC
Tax returns
Bank statements
Do I Need a Lawyer, Accountant, or Notary to Help Me?
You can easily create an employment verification letter sample without hiring a lawyer, accountant, or notary.
Creating the form online can save you time and money. It can also minimize errors and ensure that the letter looks professional compared to writing it without a template.
What Is the Easiest Way to Create an Employment Verification Letter?
At Form Pros, we have developed an efficient and convenient solution to creating an employment verification form online.
With us, it's not necessary to spend hours learning how to write an employment verification letter. This is because our software will help you to create an employment letter template in a matter of minutes.
We also offer a subscription plan so that you can create unlimited employment verification letters at a lower cost.
Why use our employment verification letter generator?
Easy to use
Eliminates mistakes
100% money-back guarantee
100% private and secure
Legally binding documents
Form Pros doesn't require the installation of additional software, which will save you even more time and money.