What is Month-To-Month Lease?
Although the standard lease is for a year, landlords and tenants who want flexibility can enter a rental agreement that is renewable each month. For the renter, there is no concern about paying a penalty to break the lease early. The landlord, on the other hand, has the option to terminate the lease at any time once they have given a 30-day notice to their tenant.
Our fillable forms take the guesswork out of document creation. Generate the documents you need for a fraction of the cost you would pay an attorney.

Why Generate Forms with Form Pros?
Save Money with Form Pros
Lowest cost document generation online & considerably less expensive than hiring a lawyer.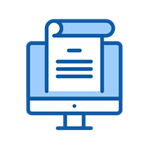 Legally Binding
Our form tools create legally binding documents that can be signed online.
100% Private & Secure
Your personal data is 100% secure & private when creating documents with Form Pros.
See How Easy It Is
Easy to Use Forms
Easy to use document creation – answer simple questions and we do the rest.
Checkout & Download PDF
Pay per document or sign up for unlimited access to get access to all Form Pros forms.
Edit, Print & Share
Download and edit all pdfs without restrictions or watermarks from account dashboard.
Instant Download
Download your filled document immediately after purchase and get a copy in your email.
Auto Calculations
Our form tools will help you automatically calculate totals and percentages.
Preview Pre-Purchase
Preview the actual PDF document that will be sent to you at any step.
Step by Step Instructions
The form is designed to make it super-simple to follow and complete required information.
Field Definitions
We provide easy to understand definitions & explanations to help you fill the form.
Expert Help
Our friendly chat support agents can help you clear up any issues you're having.
Customer Reviews
See what our customers love about using Form Pros.
I feel like Form Pros is the best service for my needs. Very easy to use and simple step by step instructions make the daunting task of preparing tax forms a breeze. Thank you for this wonderful resource.
What I enjoyed the most about Form Pros service is that besides making it really easy to generate the forms, they have amazing free resources that help you understand what, where and why.
The most detailed form form generator I've found online. The competition does not even come close. When I needed help, I was able to get in touch with support immediately via live chat.